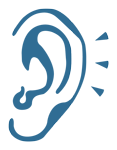 Hearing
Music, nature, laughter: listening provides one of life's joys and we often take it for granted. For one in six Australians, this pleasure is diminished or denied, and although interventions are available 85% of people with hearing loss do not take advantage of them1.
All services are conducted by our university qualified and professionally active Audiologists.
What we offer
Listen Hear! The Economic Impact and Cost of Hearing Loss in Australia, February 2006, Access Economics, https://hearnet.org.au/wp-content/uploads/2015/10/ListenHearFinal.pdf [external link PDF ~4 Mb].